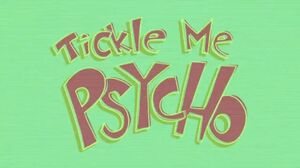 Tickle Me Psycho is a song that was sung in the episode "Playdate." It was sung during the commercial for Tickle Me Psycho.
Oh! He's tickle me psycho.
He's big and bad.
He'll maul your mom
and strangle your dad.
He'll kill your friends.
He's a furry foe.
His name is Tickle Me
Psycho.
It is a parody of Tickle Me Elmo.