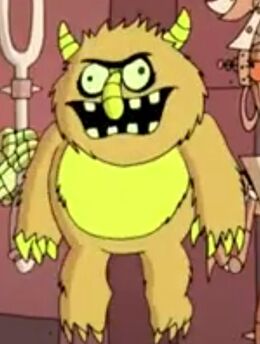 Tickle Me Psycho is a character that appeared in the episode "Playdate." He is a psychopathic children's toy that attacks and kills everyone who touches him.
Appearance
Edit
He is brown and yellow with two little horns and is crossed eyed along with a drooping yellow nose.
Personality
Edit
Tickle Me Psycho is a very rude and violent toy. He doesn't seem to like to be touched or talked to by anybody. Instead, he just attcaks and mauls everyone in his sight go death.
Ad blocker interference detected!
Wikia is a free-to-use site that makes money from advertising. We have a modified experience for viewers using ad blockers

Wikia is not accessible if you've made further modifications. Remove the custom ad blocker rule(s) and the page will load as expected.