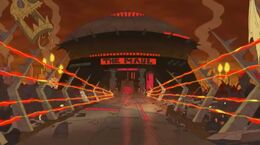 The Maul
is a building that appeared in the episode "
Bling Thing
." It is a store where people go shopping. The Maul also has an entertainment center where people can watch a reckless monster known as
Gorgon
murder robots in a fighting arena.
The Maul is a pun on "The Mall." A real life building where people also go shopping.