Welcome to The Robotomy Wiki!
Edit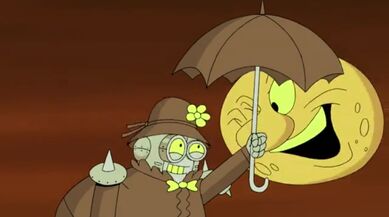 Robotomy was a TV show tells the story of Thrasher and Blastus, two outsider teenage robots with useless weapons that struggle to live on their planet that takes place after the apocalypse known as Insanus. They are slightly less horrific than the ultra-powerful robots that populate their planet and now, they face their greatest challenge yet: high school. Armed with a desire to fit in (and little else), Thrasher and Blastus navigate their lives with varying degrees of success. Stand up comedy icon Patton Oswalt (Ratatouille, King of Queens) voices Thrasher, with John Gemberling as Blastus. Other celebrity cameos in the first season include Jack McBrayer (30 Rock), Lewis Black (Daily Show), Eliza Dushku (Dollhouse), rapper Lil Jon, and comedians Gilbert Gottfried and Lisa Lampanelli. Created by Michael Buckley (N.E.R.D.S., The Sisters Grimm), Joe Deasy and co-executive produced by Christy Karacas (Superjail), Robotomy, a quarter-hour series, was produced in at New York World Leaders Entertainment.
Ad blocker interference detected!
Wikia is a free-to-use site that makes money from advertising. We have a modified experience for viewers using ad blockers

Wikia is not accessible if you've made further modifications. Remove the custom ad blocker rule(s) and the page will load as expected.